The Benefits of Trenchless Sewer Line Repair Solutions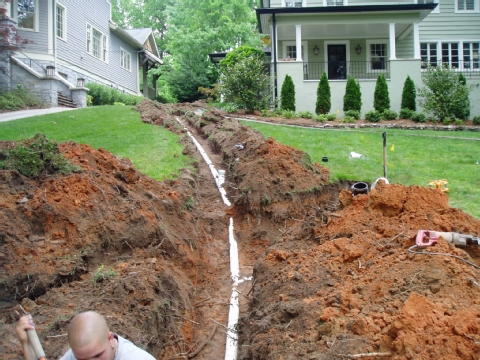 Sewer lines run beneath buildings, pavement and landscapes to connect with the city utility network or local septic system. They are also buried many feet underground, which can make it difficult to access them for troubleshooting, cleaning and sewer line repair tasks. Fortunately, developments in plumbing technology help homeowners avoid the nightmare of excavating their sewer lines.
How Does Trenchless Sewer Repair and Replacement Help Customers?
Perhaps the most important benefits of trenchless sewer solutions is that they save homeowners on labor expenses. It can take days to dig up pipes around a house and bury them again, but it only takes an hour or two to slip a flexible lining into the pipe from a remote location. This means that the technicians spend much less time on site, which saves the customer time and money.
Trenchless techniques are also minimally invasive, so you don't have to sacrifice carefully manicured lawns to fix a serious plumbing problem. It's even possible to clear our tree roots and stubborn blockages without unearthing the entire sewer line. Professional plumbers can examine the insides of your plumbing system from a distance so they can develop a solution that fits your needs.
Trust Our Experienced and Well-Equipped Plumbers
My Palo Alto Plumber Hero is a licensed and bonded contractor that has been serving the Palo Alto area for years. As a local business, we value our relationships with every single client, no matter how big or small their needs are. You can always count on us to deliver excellent results at an affordable price, whether it's a small maintenance job or request for urgent repair work.
We also offer 24/7 emergency sewer line repair services in Palo Alto, so you don't have to wait until the next day to get help. Our technician will meet you as soon as possible if you have a pressing concern, so you can start working towards a solution as fast as possible. Give us a call to learn more about our services or request an estimate for your project.